I'm linking up today to share what's been going on lately!
WHAT WE'RE EATING THIS WEEK:
I've been having lots of smoothies lately.  I also wanted to mention this chili.  We had it this month and it's my favorite!  I know it's not chili food weather, but it's still good.
I didn't meal plan at all this week.  I don't want to go to the store until May, so we're eating whatever is on hand this week.  I only have to plan 4 nights (Ryan gone Friday).  On Monday we had a Crispy Baked Ranch Chicken that I made up (I usually don't whip stuff up like that, but it was good), with fried okra and fruit salad.  On Tuesday we had Orange chicken over rice (with broccoli).  Tonight I'm eating out with some girls, but I'll make something for the boys (not sure what).  Thursday we'll have homemade pizzas and Friday, I have no idea.

WHAT I'M REMINISCING ABOUT:
I was at my gym yesterday and saw swim lessons going on.  I need to sign Beckham up.  He's the most energetic, fearless kid…until it comes to water.  I'm not going back to where we went last year, so I'll have to call around and check some prices.  It made me think of this…

He was so little.
WHAT I'M LOVING:
My new coffee bar.  It makes me happy to see it every time I'm in the kitchen.
WHAT WE'VE BEEN UP TO:
Lots of playing outside.  The weather has been awesome so we've gone outside every day it's not raining…even it it's muddy.  I love this picture because this is exactly what my mom used to bring us for snacks during the summer.  We'd sit by the pool and she'd bring out a big plate of crackers, cheese, and apples for all of us (usually for all the neighborhood kids at our house).
We've also been going to the gym a lot this week….and I haven't been called down to the child center to pick up a screaming baby 🙂
WHAT I'M DREADING:
I'm not really "dreading" this, but I'm flying solo this weekend.  Ryan has a camp so it's just me and the boys.  We've set up a Saturday evening play date and will probably go to my parents some time this weekend too.
WHAT I'M WORKING ON:
Blog – Working on organizing my pages.  Wordpress has been overwhelming, but the things I AM learning and implementing are pretty cool.  My goal is to get this done by the end of this weekend.  That's a big task as I have to go through EACH and EVERY post and tag it correctly, but it will make things much better looking.
Joyful Art Designs – Just keeping up with orders, trying to complete custom orders, and adding 3 more new signs.  I just added this one yesterday.  It's for weddings.
House – Working on finishing my office.  I also plan on decluttering big time this weekend when Ryan's gone.  I also need to lay down some contact paper in my pantry and I'll be done with the makeover.
WHAT I'M EXCITED ABOUT:
I'm really excited about decluttering.  I know that sounds weird, but I feel so much better when unnecessary things are out of the way.
WHAT I'M WATCHING/READING:
I finished Candace Cameron's Reshaping It All
.  Loved this book.  It can also serve as a devotional.  It really challenges you to look at why we eat and tips to eating healthy and how it all relates to us spiritually.
I'm currently reading Kristin Cavallari's Balancing in Heels
.  Despite her "image" on TV, I think she's adorable and really relate to her in this season of life.  I'm about halfway through and find it interesting so far to read about her personal life.
I'm also reading Stop Acting Rich And Start Living Like A Real Millionaire
 by Thomas Stanley.  I love reading books like these, especially when I start to get "whoa is me" about not having certain things.  It reminds me that what we are doing financially is the right thing and will pay off big time.  I highly recommend this book.  It's the same author that wrote The Millionaire Next Door.
As far as TV goes, I am watching Survivor, The Voice (when I can catch it), and this new show called Strong (it's like Biggest Loser, but way less drastic…contestants go from slightly overweight to fit and they stay on the show by winning competitions, not weight loss).  This is the crew on Survivor…I just love this show.  I would be eliminated quickly…I'm a terrible liar.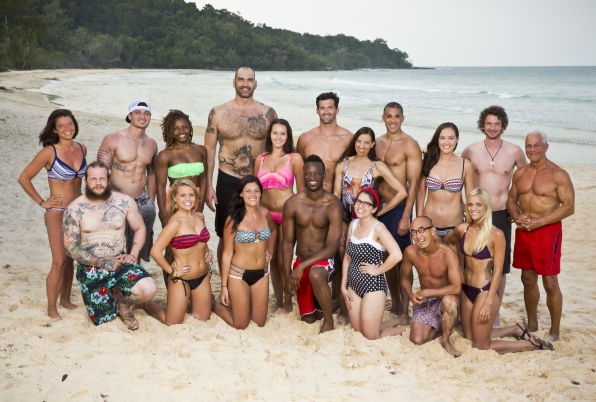 WHAT I'M LISTENING TO:
Lots of 80's Rock (when cleaning), Classical (when I need to destress or I'm working), Country (in the car), and Pop/Rap (when I'm working out).
WHAT I'M WEARING:
My typical workout clothes (even if not working out), but I've been wearing my skinny jeans a lot and rolling them up.
WHAT I'M DOING THIS WEEKEND:
I mentioned it above, but it's just us and the boys.  We'll probably do something fun on Friday night (pizza and movie).  Have friends over on Saturday evening for dinner and fun.  Church on Sunday with maybe a visit to my parents.  We'll see.  I don't like being at the house too much on the weekends.
WHAT I'M LOOKING FORWARD TO NEXT MONTH:
May is the light at the end of the tunnel for Ryan's job!  The best part about teaching is having a few weeks off in the summer (Lord knows they deserve it).  In general, I'm looking forward to playing outside without melting completely and fresh, CHEAP produce in the stores.  No more buying a pint of NON-organic blueberries for $5!
WHAT ELSE IS NEW:
Nothing you already don't know!
BONUS QUESTION – My favorite Mother's Day Gift to Give/Receive?
This is by far my favorite gift to give.  A few years ago, my siblings and I put together a 52 reasons we love you gift.  It was originally supposed to go on a deck of cards, which is why the number 52 was used, but the cards didn't look good, so I used pretty construction paper.  If I had to do it again, I would do the number of years my mom has been a mom.  My older sister is 34 so it could be "34 Reasons We Love You."  We ended up making one for my dad too and I used paint samples to post the reasons on.  You can check out the gift idea here.
I also loved this gift we gave to both my mom and mother-in-law – A Gift Basket.  You can also read more Mother's Day gift ideas HERE.

Can't wait to check out some more blogs in the link up.  What are some of your favorite Mother's Day gift ideas (given or received)?  I haven't decided yet for this year, so I would love any feedback!
If you have a "small" house (roughly 2,000 square feet or less) get ready for a good post next week!  There are a lot of amazing things about "livin' small!"  Happy Hump Day!
 Facebook  –  Instagram  –  Pinterest
*Affiliate links used for books mentioned above
(Visited 932 times, 1 visits today)